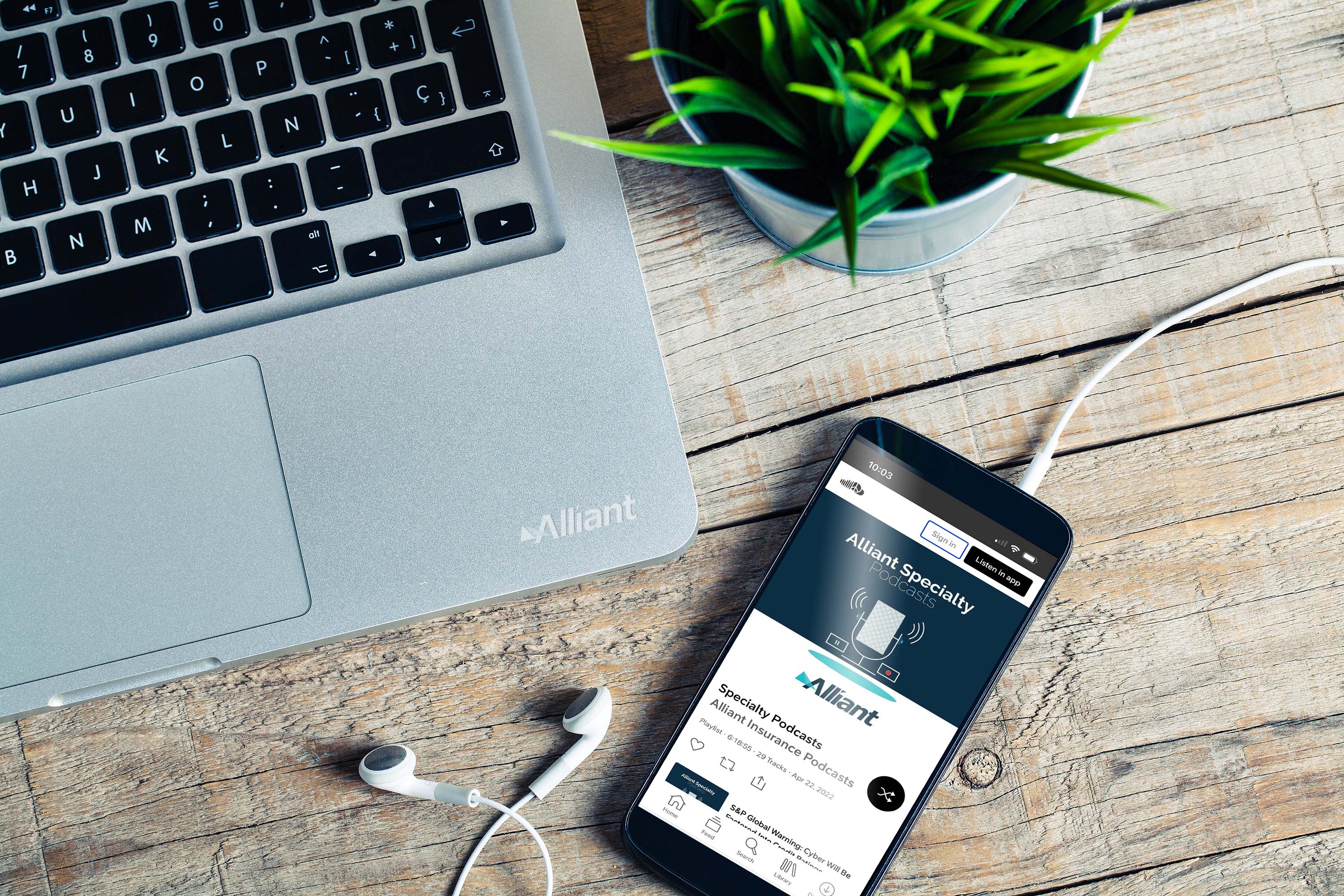 Podcast
Alliant P&C Podcasts
By Alliant
Our team of industry specialists dive into the most pressing issues facing businesses today, providing analysis and practical tips on topics ranging from cyber to workers' compensation and everything in between. With each episode clocking in at just 10-15 minutes, you can stay informed on-the-go, no matter how busy your schedule.
---
February 13, 2023
In The Public Eye: Navigating Loss Control Within Public Power
Carleen Patterson welcomes Aidan Heisey, David Heath and Tim Prenger, Alliant, to the podcast. They discuss engineering within public power and cover what loss control and engineering really entails as it pertains to insurance, what insureds are meant to do with engineering recommendations, the "requirements" of these recommendations and what fulfilling these recommendations means for premiums.
---
February 07, 2023
Alliant P&C Podcast: Insurance Market Insights and Predictions for 2023
Kevin Kenny and Alex Littlejohn, Alliant, explore marketplace opportunities and challenges business leaders should be prepared to navigate as we move forward in 2023. The duo discuss the behaviors, strategies and tools available to minimize risk and maximize value during turbulent markets.
---
February 06, 2023
M&A Roundtable: Things to Consider Before Establishing a Captive
Jon Gilbert speaks with Katie Murphy and Seth Madnick, Alliant, to examine what companies should consider when evaluating a captive arrangement. The team analyzes the advantages and disadvantages to captives, various jury award jurisdiction distinctions and why captives can be attractive to private equity firms.
February 05, 2023
Specialty Podcast: Recent Rulings and Their Ongoing Effect on the Insurance Market
Matia Marks and David Finz, Alliant, take a closer look into two of the leading cases discussed in the December issue of the Executive Liability Insights Newsletter. They examine the North Carolina District Court's recent ruling regarding interrelated claims, as well as the National Association of Insurance Commissioners ("NAIC") recently released report and what it means for the cyber insurance market.

February 04, 2023
M&A Roundtable: Huron Capital - Keys to Success in Private Equity Acquisitions
Jon Gilbert and Tim Conlon, Alliant, welcome Heather Madland, Huron Capital to discuss the recent acquisition of ExperiGreen. They examine the keys to success including company culture, workforce retention and geographic expansion, as well as the future of private equity during economic uncertainty.

January 05, 2023
Specialty Podcast: What's In Store For Cyber in 2023?
David Finz, Alliant, welcomes Jay Stampfl, Brendan Hall and CJ Dietzman, Alliant Cyber, to the podcast. The Alliant Cyber team discusses the evolving threat landscape and what clients can look forward to in 2023.

January 05, 2023
In The Public Eye: The Challenges of Coverage for Water and Sewer
Carleen Patterson welcomes Seth Cole and Robert Lowe, Alliant, to discuss the emerging risks and challenges within the water and sewer insurance market. The team examines quasi-governmental entities and the benefits and challenges their structure.
More From The Alliant P&C Podcast Channel