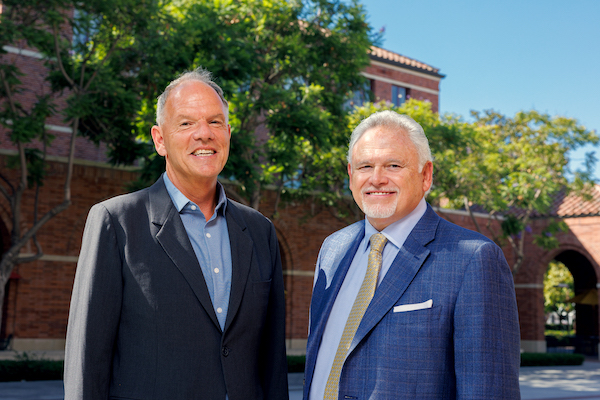 USC Marshall Announces Transformational Gift from Peter Arkley for Risk Management Program
By USC Marshall / August 16, 2022
The USC Marshall School of Business is poised to play an outsized role in educating and training the next generation of risk management professionals, thanks to a transformational gift from Peter Arkley, president of Alliant Retail Property and Casualty.
"Thanks to Peter Arkley's generous gift, our students will become leaders in the area of data-driven risk analysis, and they'll carry this much-needed expertise with them throughout their careers," USC President Carol L. Folt said. "By including scholarships, graduate fellowships, and faculty in his philanthropy, Peter is strengthening the foundation of one of our nation's top risk management programs, while helping generations of students and professionals develop the skills and knowledge needed to promote integrity and minimize risks in their day-to-day work."
With his support, Arkley underscores the critical role risk management professionals play in businesses throughout the economy. Housed within the Marshall School, the risk management program is open to all USC undergraduates and more than 25 different majors are currently represented in the minor program. Giving talented students the opportunity to fully immerse themselves in the field of risk management is important to Arkley.
"I have enjoyed an incredibly fulfilling career working with exceptional people and feel fortunate to be in a position to give back to the industry that has given me so much," said Arkley. "I encourage, even challenge, everyone to consider a career in insurance. The doors to the insurance universe are wide open."
"I am honored that the Arkley Institute for Risk Management will expand the education, training, mentorship, and internship opportunities for USC students that lead not merely to good full-time jobs, but to excellent life changing careers in the risk management field."
"I am grateful for the commitment and collaboration that has happened the last four years with members of the advisory council who have supported the program," he said. "I look forward to continuing to work alongside them as we build the Institute."
Arkley's gift will increase opportunities for students, providing scholarships and graduate fellowships. The gift will help attract leading scholars and establishes two Peter Arkley Faculty Chairs in Risk Management and the Peter Arkley Executive Director in Risk Management at USC Marshall.
"Peter's generous gift is truly visionary," said Marshall Dean Geoff Garrett. "As a veteran of this industry, he sees a future where risk assessment and management drive strategy at the world's most important organizations. His support of our program is an incredible vote of confidence in Marshall's ability to educate the future leaders of this essential field."
The Arkley Institute for Risk Management will place USC Marshall among our nation's finest risk management programs while establishing it as the premier risk management program on the West Coast, Garrett said.
About Risk Management
A key business sector with increasing importance and relevance, risk management is essential to every industry—identifying and assessing risks, and then developing controls and insurance solutions to minimize their impact. Nearly half of the insurance industry workforce is expected to retire within the next 15 years, according to industry projections. Those risk managers must be replaced with new professionals with new skillsets, such as data analytics.
"Over the past few years, COVID, supply chain challenges, and geopolitical uncertainty have driven risk management to the forefront of decision-making at the highest levels of organizations. And, at the same time, have elevated risk management professionals to play increasingly significant roles within these organizations," said Kristen Jaconi, associate professor of the practice in accounting and director of the risk management program. "With support for two faculty chairs and a graduate student fellowship program, Peter's generous gift will position the USC Marshall School of Business to take a preeminent role in applied research and thought leadership in risk management."
About Peter Arkley
Peter Arkley is President, Retail Property and Casualty, Alliant Insurance Services Inc., where he is responsible for development and implementation of the retail insurance business strategy across the country. Prior to his current position, Mr. Arkley was President of Alliant Specialty Group, which included 14 specialty insurance operations including agribusiness, aviation, construction, energy, executive risk, financial institutions, health care, hospitality, marine, mergers and acquisitions, public entity, real estate, surety, and trade credit. Alliant is the one of the largest privately held insurance brokerage firms and the 8th largest in the world. Before joining Alliant, Mr. Arkley was Chairman and CEO of AON Global Construction Group. Previously, he has held senior executive positions with Marsh & McLennan and Johnson & Higgins.
Alliant note and disclaimer: This document is designed to provide general information and guidance. Please note that prior to implementation your legal counsel should review all details or policy information. Alliant Insurance Services does not provide legal advice or legal opinions. If a legal opinion is needed, please seek the services of your own legal advisor or ask Alliant Insurance Services for a referral. This document is provided on an "as is" basis without any warranty of any kind. Alliant Insurance Services disclaims any liability for any loss or damage from reliance on this document.