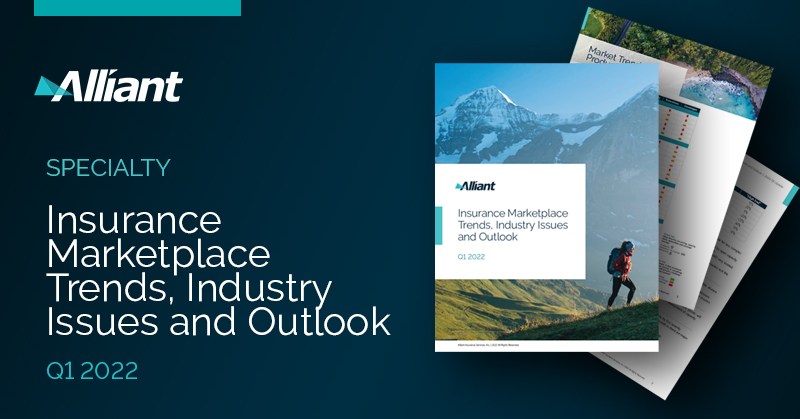 Insight
Insurance Marketplace Trends, Industry Issues and Outlook - Q1 2022
By Alliant Specialty
In this issue of Insurance Marketplace Trends, Industry Issues and Outlook we added two new areas for trends, issues and outlooks, Life Sciences and Forestry. We added Healthcare to our trends section. As we develop more information and bring on new areas of expertise we will continue to enhance this report.
In summary, the Q1 trends did not differ much from the prior year end report but the Issues and Outlooks section of our report changed significantly.
Many industries continue to have problems with a lack of skilled labor.
Construction, Forestry, Energy and Agriculture continue to have issues with a shortage of goods compounded by inflation on the cost of goods.
The Real Estate sector was hit with a settlement in Florida that sent shock waves within both the Insurance Industry and the State.
We continue to tackle the issue of very detailed property valuations that require more information and adjustments in valuation to obtain capacity.
The effects of the war in Ukraine is having an effect on Political Violence, War and Terrorism coverages with an almost daily change in positions from the underwriting community. As an example, our Agriculture clients who depend on fertilizer coming from Ukraine are required to make alternative plans as a result of the war in Ukraine.
The continuous and ongoing hardening of the Cyber market is addressed with a hardening view on pricing, capacity and terms as we move into the second quarter.
Continued pressure on the Public Entity space as States, Universities and Cities are faced with an ever-changing political backdrop and high spending levels.