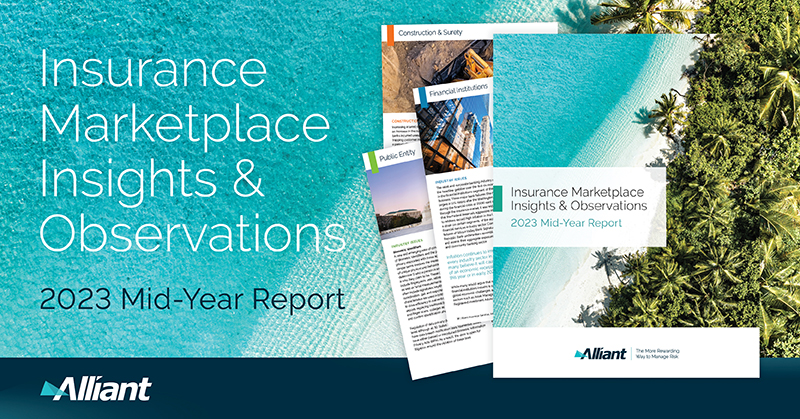 Insight
Insurance Marketplace Insights & Observations, 2023 Mid-Year Report
By Alliant
The Alliant Insurance Marketplace Insights & Observations, 2023 Mid-Year Report is the fourth state of the insurance market report produced by Alliant. The observations and commentary are gleaned from our industry-specific broking teams, in their own words, and are intended to reflect their individuality and ways of looking at their respective markets.
Introduction
Navigating the challenging and ever-changing market requires a strategic plan within risk management departments Some tips for risk managers to consider.
Begin renewal discussions early with underwriters and share details about your risk management organization, culture and processes


Endeavor to be organized and prepared


Start early on the renewal process


Stand ready to provide more detailed exposure information than has been requested or required in prior years
As a result of the pressure we expect from the market, we have included a special and now regular section to our report on alternative risk programs that could present viable solutions to clients looking for alternatives to traditional insurance. We have also expanded to include trade credit, another area that is important to our clients and solving credit issues in a unique way.
As we observe and experience any significant changes in cost and capacity, we will also from time to time produce updated versions of the trend report to make clients aware of changing market conditions in real-time.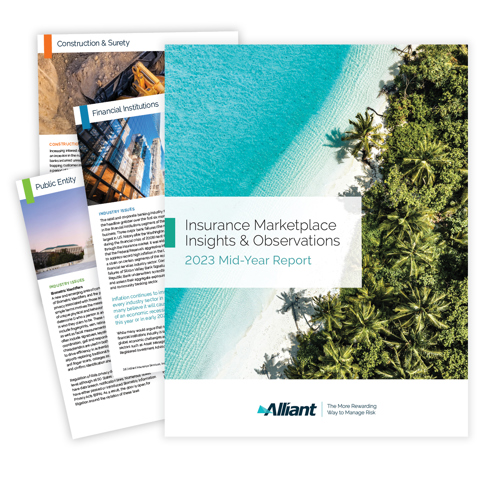 Please contact us if additional clarity within the Insurance Marketplace Insights & Observations End of Year Report 2022 is desired.
Alliant note and disclaimer: This document is designed to provide general information and guidance. Please note that prior to implementation your legal counsel should review all details or policy information. Alliant Insurance Services does not provide legal advice or legal opinions. If a legal opinion is needed, please seek the services of your own legal advisor or ask Alliant Insurance Services for a referral. This document is provided on an "as is" basis without any warranty of any kind. Alliant Insurance Services disclaims any liability for any loss or damage from reliance on this document.