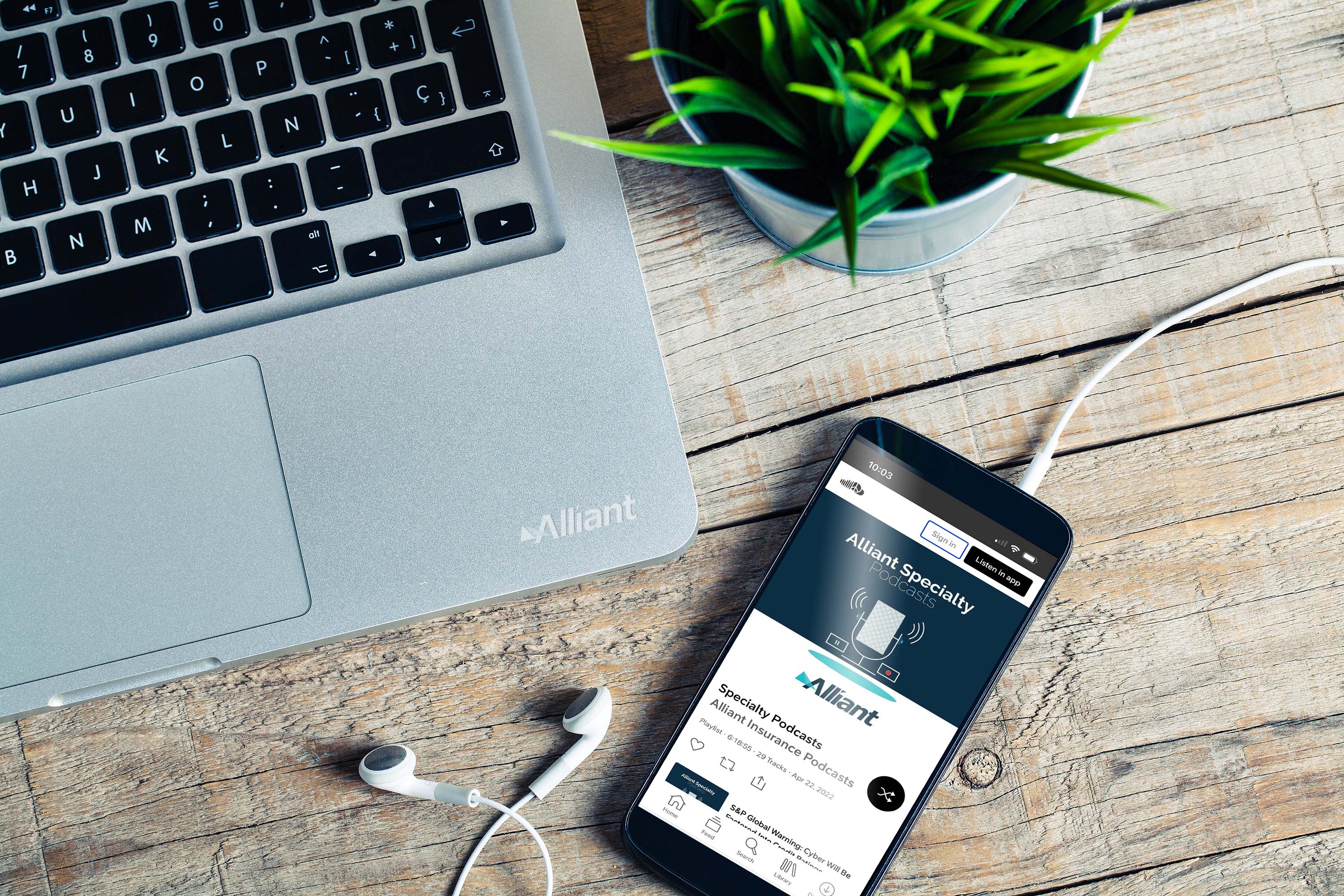 Podcast
Alliant P&C Podcasts
By Alliant
Our team of industry specialists dive into the most pressing issues facing businesses today, providing analysis and practical tips on topics ranging from cyber to workers' compensation and everything in between. With each episode clocking in at just 10-15 minutes, you can stay informed on-the-go, no matter how busy your schedule.
Featured Podcasts: 

Hurricane Preparedness for Contractors
Construction sites face unique challenges during hurricane preparation due to the presence of heavy machinery, large equipment and unfinished structures. These elements, if not properly secured can become dangerous projectiles. It is imperative to understand the importance of assessing and securing current projects, documenting project sites and ensuring contract provisions are in place for hurricane-related challenges. Rob DiBiase and Chris DeBruin, Alliant Construction, and Colin Daigle, Imperium, discuss the necessary steps for effective hurricane preparedness for contractors.
SEC's Adoption of Major Rule Changes for Private Fund Advisers
On August 23, 2023, the SEC implemented significant changes to private fund adviser regulations. Ron Borys, Ryan Farnsworth, Tim McAndrew and Steve Shappell join in a roundtable discussion covering the new expectations and requirements following the amendments to the Investment Advisers Act of 1940. While the final rules are less stringent than initially proposed, there is anticipation for considerable costly administration and compliance challenges facing private fund advisers as they conform and become compliant.
Cyber Incident Tabletop Exercises for Effective Risk Management
CJ Dietzman, Alliant Cyber, and David Finz, Alliant Specialty Claims, discuss the significance of cyber incident tabletop exercises and best practices for effective cyber risk management. The duo emphasizes the importance of validating cyber readiness plans through exercises covering technical, legal and communication aspects with the goal of improving cyber incident response.
Impact of Recent Court Decisions on Insurance Policies and Cybersecurity Regulations
Steve Shappell and David Finz, Alliant Claims & Legal, examine three recent court decisions and their potential implications on insurance policies. These decisions include Groff v. DeJoy, which redefines religious accommodation standards and could result in increased employment practice litigation; the Harvard Affirmative Action decision, which could affect diversity and inclusion policies; and the unexpected alteration in cybersecurity regulations by the SEC, mandating swift disclosure of material incidents and cybersecurity approaches.
Steve Shappell, Alliant Claims & Legal, Ron Borys and Ryan Farnsworth, Alliant Financial Institutions, welcome Peter Kelly to Alliant. Peter offers his insights as a policy wording attorney on recent legislative developments. The team discusses the new Assembly Bill 398 in Nevada, which outlaws defense costs and the ramifications for businesses, as well as the current trends and challenges for shareholder class action litigation.
Thanks for your message.
We'll be in touch shortly.